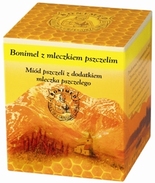 Bonimel with royal jelly
In many academic publications, we can find information about beneficial effects of bee products on our health. A Polish renowned scholar, Professor Bogdan Kędzia, in his numerous academic papers and his book on apitherapy, recommends eating royal jelly when you suffer from coronary artery disease, or gout, during anti-cancer therapy, and in lower vitality in men.
Caution:
It is impossible to clearly state that herbs cure cancer. However, modern science makes us hope that one day this will be proved.
So far, the anti-cancer effects of some plants have been proved basing on some studies on cancer cells and tissues and involving laboratory animals. There has been little research conducted on patients with cancer. Therefore, as yet, we have not had enough scientific evidence, which is also consistent with evidence-based medicine, to clearly and definitely state that herbs cure cancer.
With the current state of knowledge, it is only an assumption that herbal products have anti-cancer effects.
We all need food, so why don't we eat products that might have health-promoting properties, especially when doing so is safe.
That is our opinion which we based on results from research studies collected in a book on preventive care and phytotherapy (Polish title: "Profilaktyka zdrowotna i fitoterapia") as well as on 40 years of our experience in phytotherapy.
Manufacturer: BONIMED, Laboratory of Natural Medicine, Stawowa 23, 34-300 Żywiec, Poland
Information provided on this website is only educational, it cannot replace professional medical advice. Health condition and any abnormalities should be consulted with relevant medical services. Before taking any action related to the treatment we advise you to tell your doctor about it. "Before use, read the leaflet in the package or consult with your doctor or pharmacist, as each drug used improperly threatens your life or health".
OCHRONA DANYCH OSOBOWYCH
Zgodnie z Rozporządzeniem Parlamentu Europejskiego i Rady (UE) 2016/679 z dnia 27 kwietnia 2016 r. w sprawie ochrony danych osób fizycznych w związku z przetwarzaniem danych osobowych i w sprawie swobodnego przepływu takich danych oraz uchylenia dyrektywy 95/46/WE (zwane "RODO") informujemy, że Administratorem danych osobowych jest Laboratorium Medycyny Naturalnej BONIMED, 34-300 Żywiec, ul. Stawowa 23.
Dane osobowe naszych klientów otrzymywane są przez BONIMED podczas zakupów (bez i z rejestracją) w sklepie internetowym, a także później, w związku z kolejnymi transakcjami dokonywanymi przez klienta na stronie www.bonimed.pl
Dane osobowe zbierane są wyłącznie na potrzeby BONIMED i przetwarzane w celu realizacji prowadzenia sprzedaży produktów oferowanych w sklepie internetowym, a także prowadzenia działań marketingowych, z zachowaniem wymogów zabezpieczenia danych określonych w przepisach
Szczególe informacje na temat ochrony danych osobowych znajdują się w Regulaminie sklepu.