Telomer System Bell Visage night cream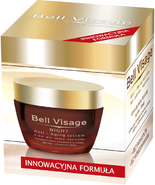 Telomer system Bell Visage night – night cream
This system is an absolutely innovative anti-aging formulation prepared by Father Grzegorz Sroka's Center of Phytotherapy. The formulation's beneficial effect has been showed in in vitro studies on fibroblasts (connective tissue cells), and proved in in vivo tests conducted on a group of women with mature skin.
Active substances in our creams can stimulate division in cells which ceased to divide (cellular senescence stage). After 2 months of using our creams, your skin will look approx. 10 years younger. The skin's elasticity and firmness increase by approx. 12.5%, while wrinkles are reduced by approx. 13%. The natural creams protect the skin from UVA and UVB rays, brighten discoloration, and neutralize free radicals.
We recommend using Telomer System Bell Visage day for 2 months, then you can take a 6-month break, and then continue to use the product.
Package: 50 ml
Manufacturer: BONIMED, Laboratory of Natural Medicine, Stawowa 23, 34-300 Żywiec, Poland
Information provided on this website is only educational, it cannot replace professional medical advice. Health condition and any abnormalities should be consulted with relevant medical services. Before taking any action related to the treatment we advise you to tell your doctor about it. "Before use, read the leaflet in the package or consult with your doctor or pharmacist, as each drug used improperly threatens your life or health".
Przeczytaj na ten temat
OCHRONA DANYCH OSOBOWYCH
Zgodnie z Rozporządzeniem Parlamentu Europejskiego i Rady (UE) 2016/679 z dnia 27 kwietnia 2016 r. w sprawie ochrony danych osób fizycznych w związku z przetwarzaniem danych osobowych i w sprawie swobodnego przepływu takich danych oraz uchylenia dyrektywy 95/46/WE (zwane "RODO") informujemy, że Administratorem danych osobowych jest Laboratorium Medycyny Naturalnej BONIMED, 34-300 Żywiec, ul. Stawowa 23.
Dane osobowe naszych klientów otrzymywane są przez BONIMED podczas zakupów (bez i z rejestracją) w sklepie internetowym, a także później, w związku z kolejnymi transakcjami dokonywanymi przez klienta na stronie www.bonimed.pl
Dane osobowe zbierane są wyłącznie na potrzeby BONIMED i przetwarzane w celu realizacji prowadzenia sprzedaży produktów oferowanych w sklepie internetowym, a także prowadzenia działań marketingowych, z zachowaniem wymogów zabezpieczenia danych określonych w przepisach
Szczególe informacje na temat ochrony danych osobowych znajdują się w Regulaminie sklepu.