Oczyszczające źródło (a cleansing spring) – dietary supplement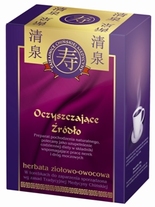 Oczyszczające źródło (a cleansing spring)
Herbal and fruit infusion prepared according to the Chinese medicine theory in sachets you can brew
Dietary supplement
Because it contains corn silks, orange zest, bilberry fruit, ginger root, melissa leaf, and rosehip, we recommend it as a daily dietary supplement to support a proper functioning of the kidneys and the urinary tract.
Ingredients: Corn silks, (sweet) orange zest, bilberry fruit, ginger root, melissa leaf, rosehip.
The product may contain almond, peanut, and other nuts traces.
Net weight: 100 g (20 sachets, 5 g each)
How to use: Take 1 sachet by mouth 2 times per day (make an infusion).
You can add honey to the infusion to make it sweeter.
How to make infusion: Pour a cup of boiling water over 1 sachet, cover the cup, and brew for 10 minutes, stirring occasionally.
Recommended daily intake of the product (2 sachets) contains: Corn silks 2.50 g, (sweet) orange zest 2.00 g, bilberry fruit 1.50 g, ginger root 1.50 g, melissa leaf 1.50 g, rosehip 1.00 g.
Storage: Store in a closed package in temperature lower than 25°C, in a dry place. Protect from sunlight. Keep out of reach of children.
Caution: Dietary supplements should not be treated as a substitute (replacement) of a varied diet. Do not exceed recommended daily intake during the day. Don't use it if you are allergic to the product ingredients.
A healthy lifestyle, including a balanced diet is the best way to maintain good health.
Manufacturer: BONIMED, Laboratory of Natural Medicine, Stawowa 23, 34-300 Żywiec, Poland
Country of origin: Poland
Information provided on this website is only educational, it cannot replace professional medical advice. Health condition and any abnormalities should be consulted with relevant medical services. Before taking any action related to the treatment we advise you to tell your doctor about it. "Before use, read the leaflet in the package or consult with your doctor or pharmacist, as each drug used improperly threatens your life or health".
Przeczytaj na ten temat
OCHRONA DANYCH OSOBOWYCH
Zgodnie z Rozporządzeniem Parlamentu Europejskiego i Rady (UE) 2016/679 z dnia 27 kwietnia 2016 r. w sprawie ochrony danych osób fizycznych w związku z przetwarzaniem danych osobowych i w sprawie swobodnego przepływu takich danych oraz uchylenia dyrektywy 95/46/WE (zwane "RODO") informujemy, że Administratorem danych osobowych jest Laboratorium Medycyny Naturalnej BONIMED, 34-300 Żywiec, ul. Stawowa 23.
Dane osobowe naszych klientów otrzymywane są przez BONIMED podczas zakupów (bez i z rejestracją) w sklepie internetowym, a także później, w związku z kolejnymi transakcjami dokonywanymi przez klienta na stronie www.bonimed.pl
Dane osobowe zbierane są wyłącznie na potrzeby BONIMED i przetwarzane w celu realizacji prowadzenia sprzedaży produktów oferowanych w sklepie internetowym, a także prowadzenia działań marketingowych, z zachowaniem wymogów zabezpieczenia danych określonych w przepisach
Szczególe informacje na temat ochrony danych osobowych znajdują się w Regulaminie sklepu.